Posted by Local Food Journey on 09/25, 2014 at 12:15 PM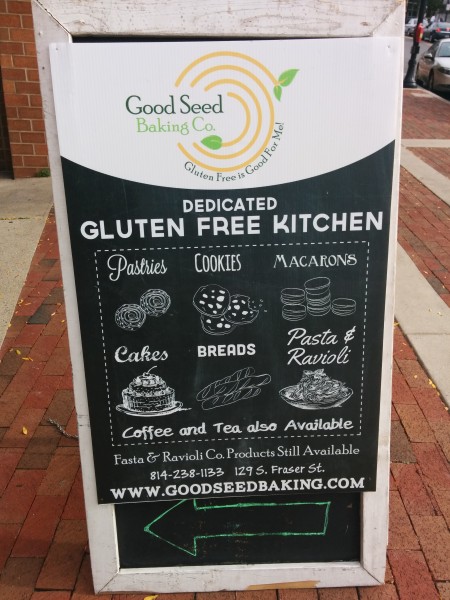 By Anna Lombardo
Do you have to avoid gluten? You no longer have to fear pasta.
One of central Pennsylvania's renowned pasta makers, Fasta & Ravioli Co., recently teamed up with another local food business, Good Seed Baking Co.—exclusive producer of gluten-free items—to begin a new line of their freshly made pastas that cater to those individuals whose gluten allergies likely prevent them from gobbling down plates of spaghetti on a weekly basis like the rest of us do (oh—that's just me?...okay).
The evolution of this project has seen a great many steps taken in just a few short years. Good Seed co-owner Louisa Smith originally founded a baked goods company called Bell and Whistle in 2010, which started out fairly small. "[We] ran that out of a camping trailer and kitchen," Smith says.
At the time, Bell and Whistle was making conventional baked goods of all kinds, among them naturally gluten-free treats called French macarons. Smith noticed that people were buying these macarons for the very reason that they were gluten-free.
Fast-forward to fall 2013 and switch gears: Fasta, having operated out of a downtown State College location for several years, moves to a new location in Pleasant Gap, leaving their former space on Fraser Street open. Already looking to add gluten-free pasta types to his 60-plus varieties of conventional pastas, Fasta founder Bob Ricketts sees an opportunity to combine the interests of his business and Bell and Whistle; meanwhile, the latter—already leaning towards a completely gluten-free menu as a partial result of the macarons' popularity—moves into Fasta's former location and assumes their current title, Good Seed Baking Co.
Thus, through what Smith calls a "coming together of needs," the current setup came into existence and a new brand of gluten-free pasta was born. Both Fasta and Good Seed benefit from the partnership: the former is able to offer gluten-free pasta, and the latter has access to "an actual kitchen and full-sized ovens."
There's a third winner here too: members of the gluten-free community. Smith tells me that these individuals have been very receptive, and that even those who don't have to avoid gluten enjoy the pasta (and other products offered by Good Seed) simply because it tastes good.
Among the difficulties posed in creating food without wheat (or barley or rye, all of which contain gluten) is finding an adequate substitute for the ingredient, which is a binding agent in many or most baked goods. "You have to have something to replace it," Smith tells me, "so there is a lot of adjusting for that." Chia seeds, flax seeds, and eggs are just a few of the options Smith named; she also added that more flavors and more spices might be needed to make up for the taste that the wheat itself gives to these foods.
Yet she makes it work, and simultaneously manages to incorporate as many local ingredients as she can into the mix (Smith and Good Seed co-owner Laura Young both have leading roles in running the North Atherton Farmers' Market); Smith additionally seemed eager that she could, in this way, contribute to the local economy. Ricketts "shares her (Smith's) sentiments exactly," though he explains that getting all of his pasta ingredients locally can be a challenge and is, at times, not feasible.
"It's hard to get everything you need [locally], from a pasta standpoint," Ricketts says. Certain types of ingredients are only grown in specific parts of the country, he says, including semolina flour, a key component of pasta. Cultivated mostly in the Midwest, local variations don't quite do the trick. "I've played
around with them, and they just don't hold up," Ricketts admits.
Despite speed bumps like these, he still believes it to be "really cool to foster relationships" with local farmers and food growers whenever possible. Ricketts told me that he once served a gluten-free cake at a party and the party-goers had no idea that their sweet treat was anything other than a conventional baked
good. "Just because it's gluten-free doesn't mean it has to taste bad," he says.
Though I haven't had a chance to try them yet—and believe me, I love cake and cookies too much to let the opportunity go by—I'd say the companies' wheatless wonders have proved to be pretty darn good.
Anna Lombardo is a suburban Philadelphian, English major at Penn State, and avid learner, runner, and eater.
Author: Local Food Journey
Bio: An exploration of what it means to eat local