Posted by LacCreta Holland on 12/22, 2015 at 12:59 PM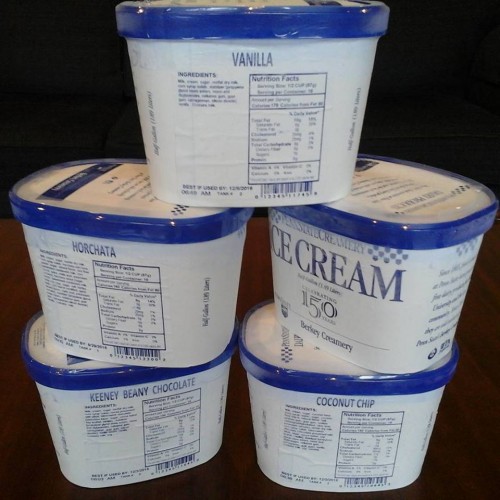 Normally you don't think about ice cream in December, although the temperatures recently here in Happy Valley have been almost ice cream eating weather!
We are having a gang of friends and family at our home this holiday season. The BEST and easiest dessert, and one that my children, who live far away, count on each year, is Penn State Creamery Ice Cream. It is rich and creamy, deliciously filled with calories—-just right for holiday decadence. And despite the urban legand that Creamery Ice Cream is only sold on campus because it does not meet FDA standards regarding it's fat content, the people at Berkey say that is not true. The FDA only has standards for minimum fat content in ice cream, not maximum! And while you probably should not eat it every day, for a holiday treat, it is a delight. My granddaughter, Alice, gave her approval this summer!
I recently stocked up on Creamery Ice Cream since the Berkey Creamery will close on Wednesday, Dec. 23 at 5:30 p.m. and will not reopen, because of renovations, until sometime in February. While closed, Creamy Ice Cream and all of their products will still be sold through their website at http://creamery.psu.edu.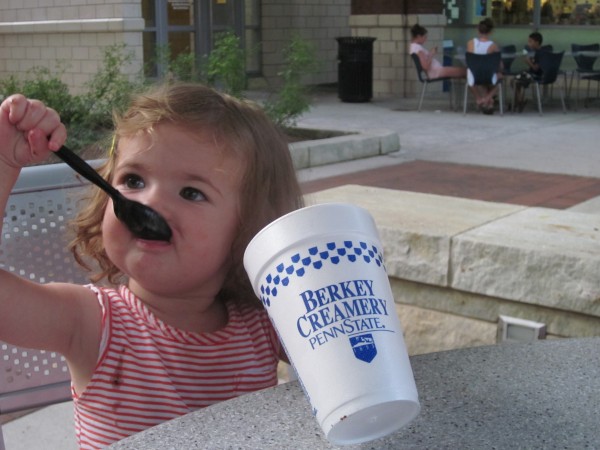 Author's granddaughter Alice enjoying the Creamery on a summer day.
Enjoy the holidays! And if you want to top that Creamery Ice Cream with something chocolaty, then try this recipe for easy chocolate sauce, with ingredients you just might have in your kitchen already!
Chocolate Sauce
Ingredients
1 cup whipping cream (get the BEST and least expensive from Meyer Dairy)
2 and 1/2 cups semi-sweet or bitter sweet chocolate chips (or chocolate bar chopped up—-I like Traders Joe's "Dark Chocolate Lover's Chocolate Bar—more chocolate, less sugar)
1/4 cup butter
2 tablespoons sugar
1 teaspoon vanilla
Steps
- Place the whipping cream in a medium saucepan; bring to a boil over medium-low heat.
- Remove from the heat, add the chocolate, butter, sugar and vanilla.
- Stir the chocolate until it melts and the mixture is smooth.
- Makes 2 and 1/2 cups.
- Serve immediately or chill and when serving, warm over a low heat.
Author: LacCreta Holland
Bio: LaCreta Holland—views on life and food change when you have lived in Italy--believes that good smells from the kitchen make people happy---loves to teach people to cook through my business Happy Valley Learn to Cook