Posted by Local Food Journey on 03/11, 2015 at 11:53 AM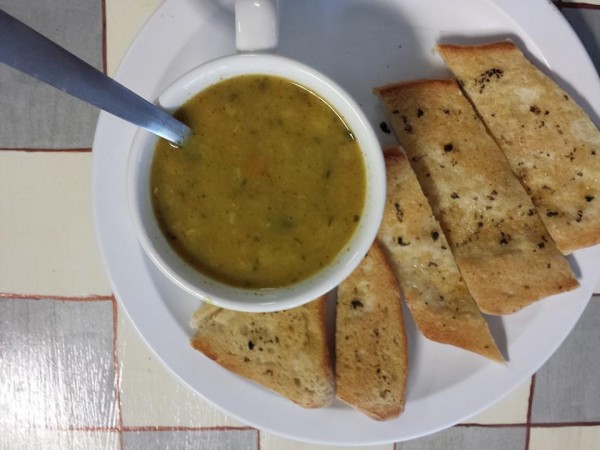 By Emily Edling, Local Food Journey Intern
The Aardvark Kafe is one of the hidden treasures for the vegetarian community in State College. Located on the 900-block of West College Ave, it is just out of reach of the downtown area, but is well worth the trip. Owners Karen and Les Urbanski opened Aardvark Kafe three years ago, transforming the former OIP (Original Italian Pizza) into a combination cafe and antique shop.
In keeping the original OIP menu and adding a whole new menu consisting entirely of vegan dishes, the Aardvark Kafe offers an environment in which vegans, vegetarians, and meat eaters alike can dine together in perfect harmony.

The vegan menu is a combination of Karen, Les, and their son's tastes as well as their willingness to listen to what their customer base wants to eat. For example, the Merrick sandwich is the product of one five-year-old boy named Merrick's favorite things. They asked him what he liked on a sandwich and the product has become one of their most popular sandwiches, filled with bbq tofu, hummus, romaine, tomatoes, and topped with onion straws. The same thing happened with the popular Vegan-Dee's, named after a regular customer Dee, and one customer's struggle with celiac disease inspired Aardvark to completely change their black bean burger recipe to be gluten free.
Karen and Les say that they try to take advantage of the local foods while they can using many ingredients from their personal garden and the local farmers markets, although this gets increasingly more difficult in State College's harsh winter months.
Even though Aardvark Kafe is further out of the downtown area, they have a vast customer base owing to their impressive vegan menu. Karen says that there is one man from Boston who comes in every three weeks or so and says that he has eaten in vegan restaurants all over the country, but still thinks that Aardvark is the best. There is another family from Clearfield that makes the drive simply because of the vegan options.
Karen says that Aardvark does get a lot of students, especially members of the vegetarian club, but are not entirely student dependent because of their distance from downtown. They have a range of customers who are business people, undergrads, international, and a lot of graduate students. One thing that is constant among these vastly differing customer groups is their appreciation for the choices offered at Aardvark.
The Aardvark Kafe offers a unique environment for people from all dietary preferences. The eclectic atmosphere that comes from having a restaurant intertwined with an antique shop and the willingness of the owners to truly cater to each individual customer's needs makes for a dining experience one won't soon forget. The Aardvark Kafe invokes a sense of coming home with such a warm environment and owners who care about their customers like parents do for their children.
Author: Local Food Journey
Bio: An exploration of what it means to eat local