Posted by Jamie Oberdick on 08/28, 2013 at 12:54 PM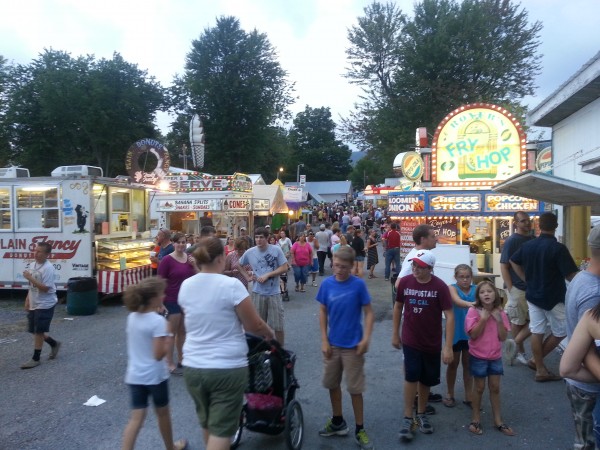 Last night I went to the Grange Fair. One of the more unique events in Pennsylvania, the Grange Fair celebrated its 139th year. The event has humble origins, beginning as a picnic event in 1874 in the rather scarily named Leech Woods just west of Centre Hall. It has evolved into today's version, featuring an encampment that visitors often find sort of puzzling (but seems like fun for the campers), a dazzling array of food stands that at times makes choosing a snack or meal rather overwhelming, and, of course, various agricultural exhibits. It really is one of those things that offer something for just about anyone in the area. I think if you live in this area it's something you should attend at least once.
So, what's the connection that the Grange Fair has with the local food scene? One is, of course, obvious—the focus on agriculture. But there are a few things that seem to be missing as far as local food.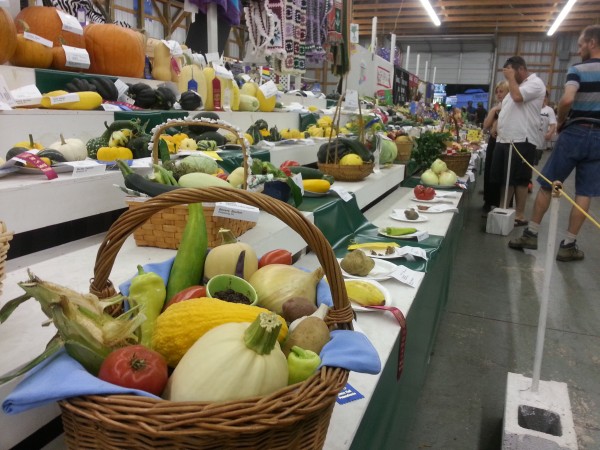 Produce grown by local gardeners on display at the Grange Fair
Here's a few local food things that I'd love to see at the Grange Fair:
- I had the opportunity to judge the Boalsburg Farmers Market Golden Basket Awards featuring local chefs creating dishes made with food from the farmers markets. I would love to see a version of this at the Grange Fair. Perhaps a Grange Fair local food competition would just focus on ingredients from local vendors and include non-chefs as well. Of course, I am not saying this to get free food again but if they need a judge, I'm game…
- A larger presence by local food vendors. Last night I saw Scott's Roasting and his famous pork sandwiches made from hogs he raised in Bellefonte, and Red Hawk Premium Peppers and their delicious variety of hot sauce, pepper jams, etc. Not sure if there's an issue with poor sales or not (there are so many food booths around I am not sure if they all make a decent profit), but these seemed to be the only ones there. But I would love to see more local food restaurants and vendors representing at the Grange Fair.
Overall, though, the event is a good one for local food enthusiasts to attend. You can find a lot of local food created by the community in the canning exhibits. And, of course, nothing wrong with having a batter-dipped fried Nutter Butter once a year…that is, ONCE a year.
The Grange Fair continues through tomorrow. For more information, go to http://www.grangefair.net/.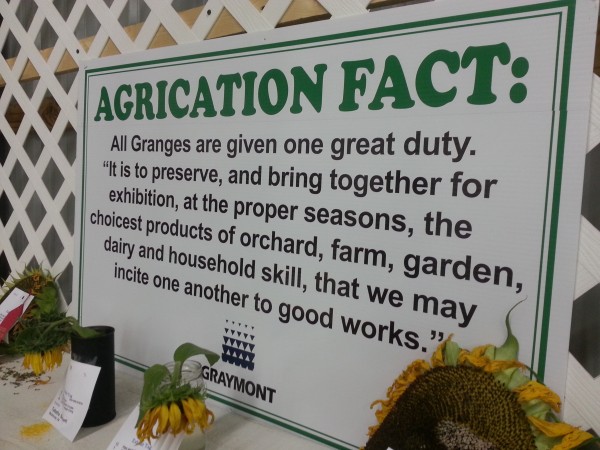 Sign talking about one of the things that the Grange is all about.
Author: Jamie Oberdick
Bio: Editor, Local Food Journey | Passionate about supporting local food in Central PA