Conversations LIVE
Joint Replacement
Originally aired January 19, 2012
It's estimated that roughly 773,000 Americans undergo joint replacement surgery each year. The procedure offers the potential for pain relief and increased mobility, but it may not be a permanent fix and joint replacement comes with permanent risks. Is it right for you?
Panelists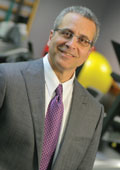 Wayne Sebastinelli, M.D. - Kalenak Professor in Orthopaedics and Rehabilitation & Director of Athletic Medicine at Penn
Dr. Sebastianelli has been a Kalenak Professor of Orthopaedic Surgery and the Director of Athletic Medicine at the Pennsylvania State University for the past 20 years. He graduated with AOA honors from the University of Rochester School of Medicine and Dentistry. His residency training was completed at the University of Rochester and his Fellowship training was completed at Penn State Milton S. Hershey Medical Center.
Dr. Sebastianelli specializes in Orthopaedic Surgery and Sports Medicine. His academic interests include Concussions and Sports injuries. He also currently is the Chief of Staff at Mount Nittany Medical Center.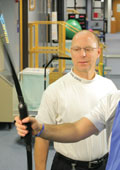 Dean Plafcan - Lead physical therapist at Penn State Orthopedics
Dean Plafcan is the Lead Physical Therapist at Penn State Orthopaedics Physical Therapy. He earned his PT degree from the University of Indianapolis, Indianapolis, Indiana.He came to Penn State in 1997 after working as an athletic trainer at Indiana University, in Bloomington, Indiana. He has work under Dr. Sebastienelli as Lead PT for the past 10 years.
Host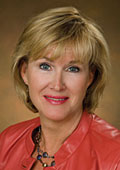 Patty Satalia
During 30 years in broadcasting, Patty Satalia has worked as a news anchor, talk-show host, public affairs manager, and producer.
She has conducted more than 5,500 interviews for WPSU and has earned Mid-Atlantic Emmy Awards for public affairs and entertainment programming.
Additional Resources
Next Conversation:
Thursday, February 26 at 8pm
Questions for the Panel
Past Conversations
Season 4
Season 3
Season 2
Season 1