Interviews with Instructors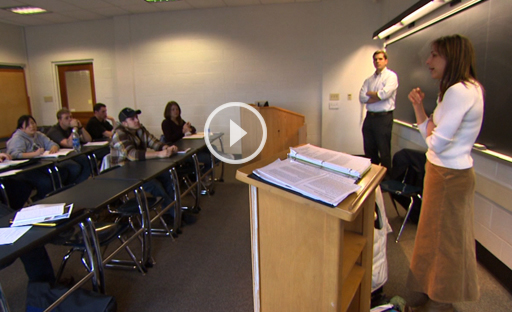 Blue titles indicate featured videos.
We welcome your comments. However, please bear in mind that they may not appear immediately upon submission.
COURSE DESCRIPTION
Student veterans learn to utilize video and web technologies to empower them to chronicle their stories and experiences of the Iraq War.
The course model embraces the premise that — given the appropriate framework and resources — those who have lived through this war are uniquely suited to help other Iraq veterans tell their stories.
Instructors

Nathan Tobey is a coordinating producer at Penn State Public Broadcasting (PSPB) specializing in new media and television projects. Tobey coordinates Penn State non-sports programming for the Big Ten Network and is an executive producer of the series "Conversations from Penn State," which airs on the Big Ten Network and WPSU-TV. Tobey also launched the Penn State On-Demand statewide television service and managed Vote '08: Candidate Central, PSPB's interactive election initative.
Prior to joining PSPB, Tobey earned an B.A. in journalism and history, and an M.A. in history, from Emory University in Atlanta, Georgia. In 2002, he worked as a television news reporter for SABC-TV in Cape Town, South Africa. He has studied filmmaking at New York University and Penn State.

Shirley Moody is assistant professor of English at Penn State University. Specializing in African American literature and folklore studies, her work explores the complex relationships between representations of folklore in popular culture and literature and U.S. racial and national identity formations.
She received her Ph.D. in English Language and Literature from the University of Maryland in 2006 and has taught numerous courses and workshops on African American literature, folklore studies, race and oral history. She is currently working on her book, Conjuring the Color Line: Race, Folklore and Fiction in the Jim Crow Era, which explores how representations of black folklore perpetuated the racial stereotypes that upheld Jim Crow segregation.
She is recipient of a Ford Foundation Fellowship, and she is a former post-doctoral fellow of Penn State University's Africana Research Center.
Video Interviews with Instructors
FAQ
What is the purpose of this course?
»
To provide interdisciplinary training that prepares student veterans of the Iraq War to become its storytellers by conducting oral history interviews and creating short films about other veterans or themselves.
Why veterans interviewing veterans?
»
We utilized the veterans interviewing veterans model not only because the veterans share certain experiences and perspectives that give them a unique rapport with one another, but also because we wanted to empower those who have lived through a certain experience to become the storytellers of that experience.
How was this course developed?
»
The course was developed through a partnership between Penn State Public Broadcasting and the Penn State English Department. The project emerged out of the Public Service Media Initiative at WPSU, which seeks to further media/community/academy collaboration. The project received funding from the Corporation for Public Broadcasting's (CPB) Public Media Innovation Fund.
Is the course being offered again?
»
We do not have plans to offer the course again at this time. We received funding for a single semester. We hope that the course might inspire and inform similar future efforts.
Why are only four students featured?
»
Due to resource and space limitations, it was not feasible to feature the work and video of every student in the course. Instead, we chose a cross-section of students to provide a general representation of the course experience. Go to the full class roster.
We greatly appreciate and admire the efforts of every student in the class.
Why did the course focus on the Iraq War?
»
The story of the Iraq War we usually hear concerns generals and diplomats, and is told by experts and professional journalists. The voices of veterans themselves are too often missing from the discussion. This course was designed to provide veterans with the tools they needed to find and effectively tell the stories that mattered to them.
We also chose the topic because of the large number of Iraq veterans at Penn State, and in Pennsylvania.
Visit the "share" section of the page to share your feedback, thoughts, stories, pictures or videos.
What role did the blog play in the class?
»
We utilized a blog to supplement class discussion both to continue the discourse outside the classroom, and to provide experience for the students in blogging, video compression and video sharing.
Assignments
Materials