Posted by Jamie Oberdick on 04/08, 2015 at 11:31 AM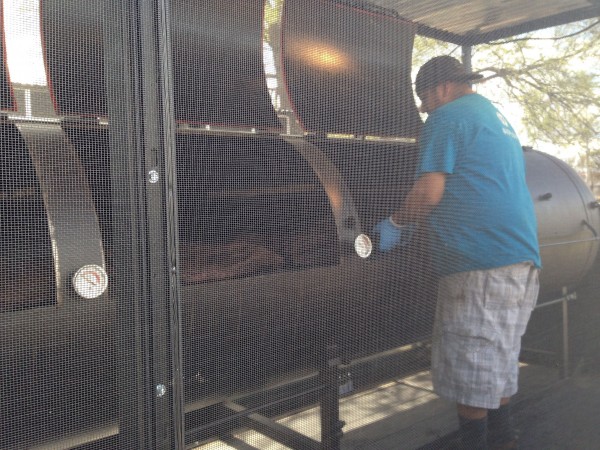 This is the second part of a two-part series on local food at South By Southwest, to learn more about the event and read about some programming related to local food at the event, please go here.
I've been to Austin twice. The South By Southwest vibe of Austin is quite different than the normal Austin vibe. The normal Austin vibe is laid-back artsy in a folksy Texas style, while the SXSW version of Austin is more frantic and teeming, understandable given the influx of people, including lots of celebrities. But one thing that never changes about Austin, and that's the fact it is quite a culinary destination. In keeping with the rest of the country, local food is popular in Austin and I found several great examples of regional food in Austin.
First and foremost, Austin is a barbeque town. Ask a couple of locals together for a recommendation, and you may inadvertently spark quite a debate. After some debate with myself and online referrals, my wife and I found ourselves at an real up-and-comer in the Texas barbeque landscape, La Barbeque.
La Barbeque is a new player on the scene, opening in 2012 amidst a shuffle among barbeque legends in Austin. John Lewis is the pitmaster at La Barbeque, having cut his barbeque teeth at the legendary Franklin Barbeque. He's not what you'd expect from a barbeque guy, he's a thin guy, but he completely shatters the idea that you can never trust a skinny cook. When we arrived in mid-afternoon, there was still a line but in the warm Texas late winter sunshine, the wait was tolerable (and short, I hear lines start forming on weekends for lunch at 8:00 am). And well, well worth it.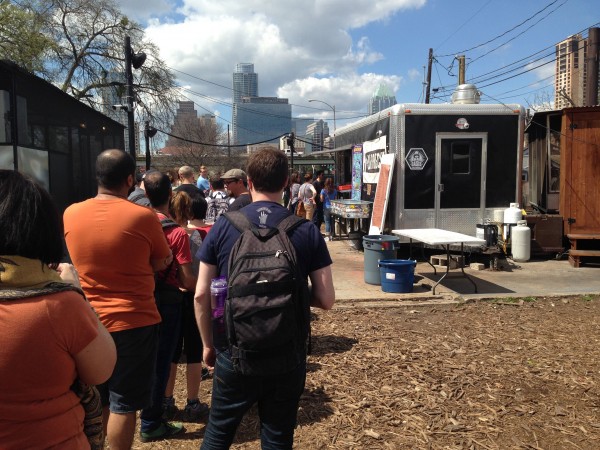 As is often the case, La Barbeque was running out of items given it was later in the day, so I settled on pulled pork and local Texas beef brisket, with sides of potato salad, cole slaw, and pickled onions. I'd put this in the top 10 meals of my life. The brisket was a perfect combination of smoke, spice, and juiciness, same with the pulled pork. The sides were great too but the meat was just, well, artistic.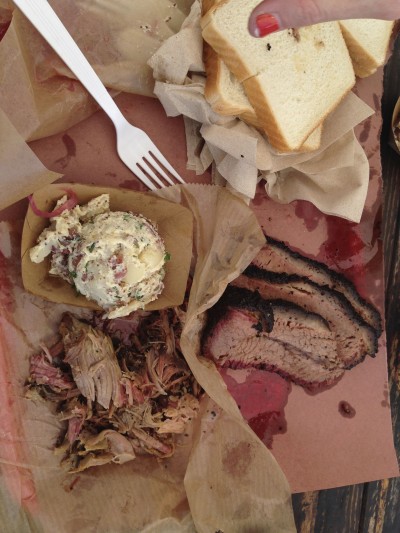 Along with barbeque, Austin is passionate about Tex-Mex, especially a local favorite, the breakfast taco. From what I was told, proceed with caution here, as Austin has some surprisingly mediocre examples of this tasty morning dish. One recommendation came from Austin's food truck community, which is a fantastic and economical way to get a real taste of Austin. We trekked up past downtown, under a highway, and up to a food truck known for tacos, Pueblo Viejo. A friendly person took my order, and we waited in the pleasant morning sunshine at one of the seats in a ramshackle mix of picnic tables and old patio furniture, a nice change from the brutally cold Happy Valley mornings we had endured lately.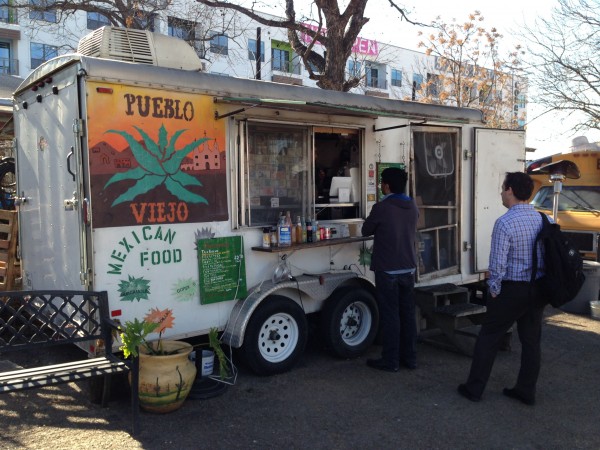 One thing about Austin tacos…they are mostly soft (hard-shell tacos are not something I saw much of), they are in corn tortillas, and they are double-tortilla, not single tortilla. And, at breakfast, they have different items in them. My wife Beth got a Don Chago taco, featuring bacon, cheese, beans, and avocado, and I got a Taco Bueno, with egg, chorizo sausage, potatoes and cheese, and Taco Viejo, with chorizo, egg, potatoes, and beans. These really were remarkable as breakfast foods and you can see why they are so popular. The avocado makes an interesting vegan-style substitution for egg, and the chorizo sausage gives these tacos just enough kick (although they offer both a green and red taco sauce to spice it up).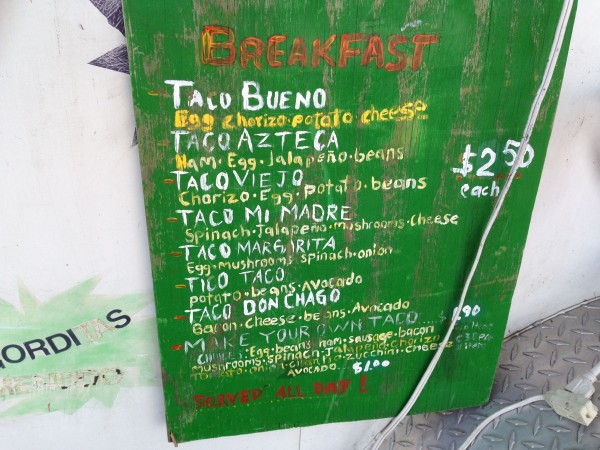 Locally sourced food appeared in the SXSW Southbites "Trailer Court" food truck area. The interestingly-named Mrs. P's Electric Cock served up delicious fried chicken, made with all-natural locally source chickens. Fried up crispy and served with a roll and a pickled jalapeno pepper, this was southern cooking at its finest.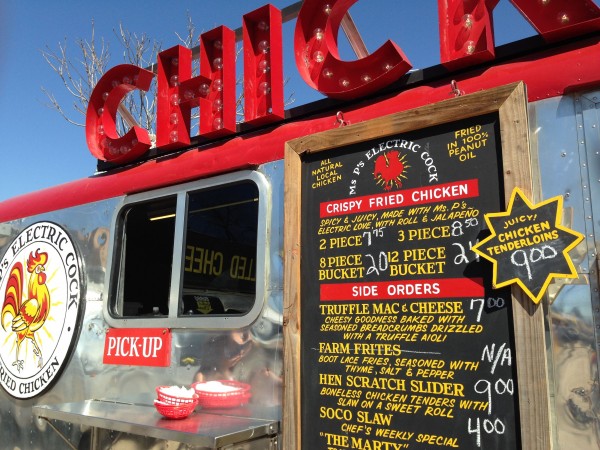 We also sampled some locally sourced food in a cuisine-type that you might not think of when you think of Texas, Italian. La Taviata Italian Bistro, located downtown, is a farm-to-table restaurant that proudly states in their menu that they support local ranchers and farmers. The spinach salad featured local spinach, a delicious local bleu cheese, and heirloom tomatoes. Yes, heirloom tomatoes in March, due to a working relationship the owner has with a small Mexican farmer.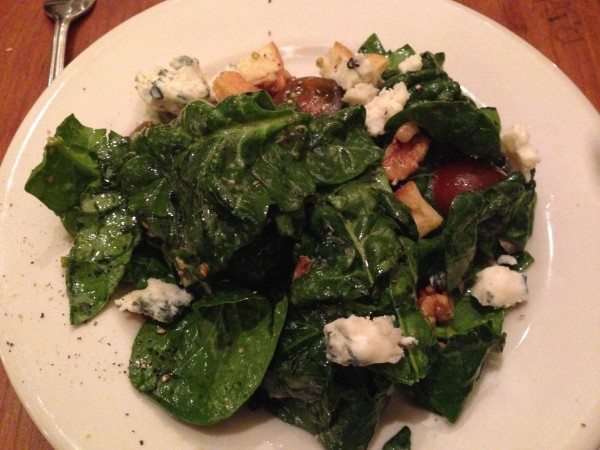 Their main entrees feature a spaghetti alla carbonara that includes a local farm-fresh raw egg on top, and rigatoni with spicy lamb meatballs, made with locally-raised lambs.
Really, in the several days we were there, we felt like we only scratched the surface in both dining and stuff to learn in Austin. If you ever go, be sure to seek out locally sourced dining, Texas-style. Can't beat being a traveling locavore.
Author: Jamie Oberdick
Bio: Editor, Local Food Journey | Passionate about supporting local food in Central PA