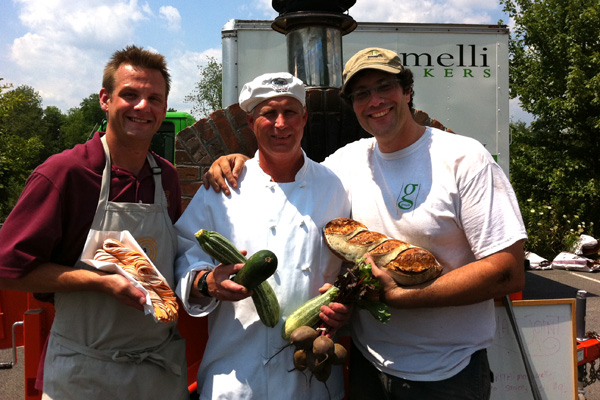 Area farmers markets provide an opportunity for locals to directly support farmers and local food purveyors. Here at Harrison's, many of those who sell at the local markets are the friends we welcome at our back door each week with delicious seasonal ingredients that we use throughout the year.
For the consumer, a farmers market is a chance to meet the person who grows the food you eat. Rather than the old adage, "matching a name with a face," we think of it as "matching a food with a farmer!"
Continue Reading: Community at the Farmers Markets
Posted by Harrison's Fresh + Local on 08/18, 2011 at 10:09 AM
Tags: market |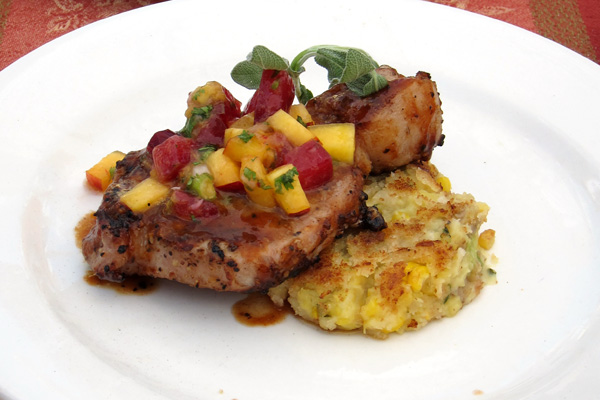 You can always find farmers at the Boalsburg Farmers Market. And butchers and bakers and cheese makers. But there were a few new faces to see yesterday afternoon.
Chefs who typically work their magic behind the scenes of our favorite local restaurants sharpened their knives, packed their frying pans and portable stoves, and came out to compete in a cooking competition. Contestants included: Jamsion Steffan and Gus Aranguiz from The American Ale House, Mark Johnson from Elk Creek Cafe + Aleworks, Harrison Schailey from Harrison's Wine Grill, Sean Kelly from Kelly's, Pete Herncane from Otto's, and Andrew Monk from The Sustainable Kitchen. Their task was to prepare two dishes using ingredients found at the market. The dishes were then judged on creativity, taste, and presentation.
Continue Reading: Local Chefs Compete for the Golden Basket
Posted by Emily Wiley on 08/17, 2011 at 10:42 AM
Come out to the Boalsburg Farmers Market today and get more than a basket full of peaches, tomatoes, and eggplant. See some of your favorite local chefs compete in a cooking competition!
The competition begins at 2:30pm at the Military Museum in Boalsburg. Participating chefs from The American Ale House, Elk Creek Cafe + Aleworks, Harrison's, Kelly's, Otto's, and The Sustainable Kitchen will use ingredients from market vendors to create three courses. I will be joining a panel of four judges—including Patty Satalia of WPSU, State College Mayor Elizabeth Goreham, and State College's Italian chef and cookbook author Grace Pilato—to determine the winning chef.
Continue Reading: Local Chefs Compete Today in Boalsburg
Posted by Emily Wiley on 08/16, 2011 at 08:45 AM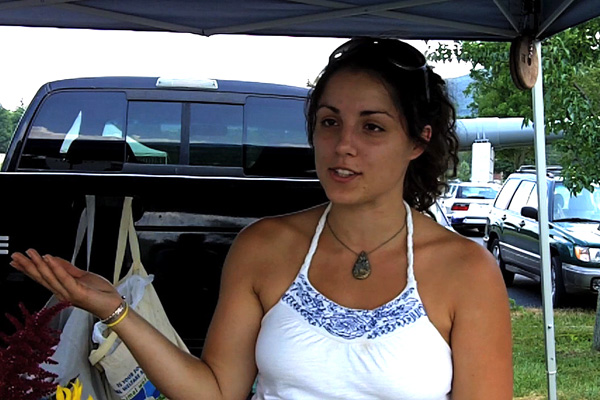 Clan Stewart Farm is a 160-acre farm located in Huntingdon. The Stewart family came to Pennsylvania from Ireland in the 1700s and began farming the land in 1793. Now in its seventh generation, the family continues to work together to keep the farm alive.
Hear about their popular whole hog sausages—from andouille to spicy chorizo to mild Italian—in this video interview.
Find them at the Boalsburg Farmers Market on Tuesdays from 2-6pm and at the North Atherton Farmers Market on Saturdays from 10am-2pm.
Continue Reading: Clan Stewart Farm in Huntingdon
Posted by Katherine Taylor Grofic on 08/15, 2011 at 01:54 PM
Page 148 of 194 pages « First < 146 147 148 149 150 > Last »