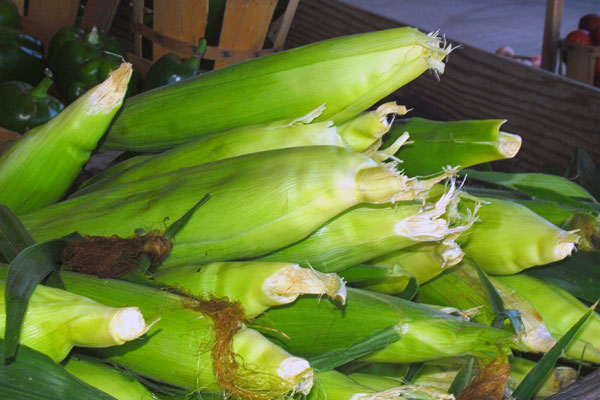 Eight of the best local chefs from the area's finest restaurants will compete for the Boalsburg Farmers Market Third Annual Golden Basket Award to be held from 2:00 p.m. to 4:00 p.m. on Tuesday, Aug. 6. Part of the Pennsylvania Association for Sustainable Agriculture's "Local Foods Week," the event will feature the chefs preparing a main dish and two sides from ingredients produced by Boalsburg Farmers Market vendors. This will be the largest judged competition among chefs in the State College Area, and it has been described "as the culinary Olympics of Centre County." The chefs will gather their ingredients at the start of market, then prepare their plates for submission to the judges in front of market goers.
Continue Reading: Eight local chefs to compete for Boalsburg Farmers Market Golden Basket Award
Posted by Jamie Oberdick on 08/05, 2013 at 09:07 AM
Tags: LocalFoodsWeek | GoldenBasketAward | chefs | |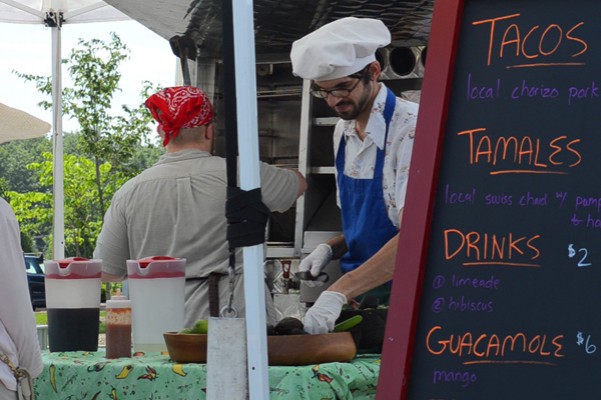 El Gringo's cook, Ben Stanley, talks about how he uses local foods in Mexican dishes to sell at farmers markets. Stanley uses the seasonal produce of central Pennsylvania to practice what he learned in Mexico about cooking.
Continue Reading: Local Food Video: El Gringo Taco Truck
Posted by Jessica Paholsky on 08/02, 2013 at 09:05 AM
Tags: video | ElGringo | MexicanFood |

From our friends at Buy Fresh Buy Local Centre County Chapter, an announcement about Local Foods Week, a celebration of the amazing bounty we have right here in the Centre Region
August is a month of cookouts, family gatherings, and finding creative ways to beat the heat. Did you realize that all the ingredients you need for your next summer get-together—mouthwatering burgers, juicy watermelons, crisp salads, and refreshing ice cream—are produced right here in Centre County? They're closer than you think, and the growers are eager to meet you in person. Buy Fresh Buy Local® Centre County Chapter is presenting Local Foods Week from August 3rd through August 10th, which will offer events for the whole family to explore and connect with the county's vast agrarian offerings and sustainability practices. The week's happenings will appeal to anyone with an interest in local foods at any level, from backyard gardening, homesteading, or cooking with sustainable ingredients right up to larger scale farming. Even if you don't have a green thumb, Local Foods Week will help you and your family appreciate and understand what it takes to bring your meals from the farmers' fields to your fork.
Continue Reading: Next week is Local Foods Week!
Posted by Jamie Oberdick on 07/31, 2013 at 02:00 PM
Tags: LocalFoodWeek | BuyFreshBuyLocal | farms |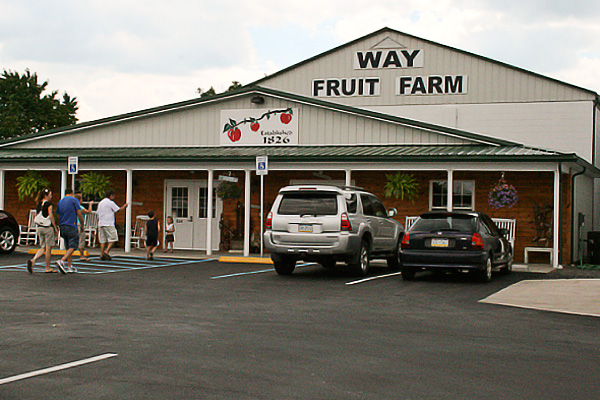 Way Fruit Farm apples and apple products are among the Centre Region's favorite local foods. As something of a cider snob connoisseur due to having grown up in the Appleland that is southcentral Pennsylvania, I am picky about cider but have found Way's cider to be one of my personal highlights of a Happy Valley autumn. However, Way Fruit Farm is so much more. They offer a wide variety of local fruit, and vegetables, almost year-round. They also have a pleasant cafe for breakfast and lunch, a gift shop, and provide a one-stop shop for other local food items such as meats, cheeses, sauces, etc. You can build a heck of a meal in one visit to Way Fruit Farm.
I recently had the pleasure to talk to Jason Coopey, co-owner of Way Fruit Farm, about what fruits are in season now and in the near future, why local food is so fantastic, and when they will again offer cider this year.
Continue Reading: Interview with Jason Coopey of Way Fruit Farm
Posted by Jamie Oberdick on 07/31, 2013 at 12:12 PM
Tags: WayFruitFarm | fruit |
Page 106 of 218 pages « First < 104 105 106 107 108 > Last »